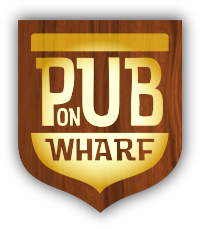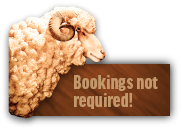 PUB ON WHARF MENU
"THE FAMOUS $20 MENU"
Here at Pub on Wharf, we believe in good quality meals at fair prices and a hearty selection of local kiwi favorites on the menu.
Here is a sample of what we do. Have a look and see what you fancy. If you have any special requirements please give us an email and we will do our best to sort you out.
We love to keep a relaxed place, we don't take bookings, just come on down and enjoy! 
DOWNLOAD FULL MENU
Full Menu

BREAKFAST Available Until 4pm
PUB BREAKFAST
Streaky bacon, sausage, baked beans, poached eggs, hash browns on thick-cut toast
WAFFLES
Fried banana, peanut butter & maple syrup on Belgian waffles
PUB BENNY STACK
Poached eggs, creamed spinach, hollandaise sauce on hash browns
AVOCADO PEA SMASH
Served on thick-cut toast & topped with seaweed togarashi
CHEESE ROLLS
Our own secret Southland recipe
GARLIC LOAF
Lashings of garlic butter & sesame seeds
BLOOMING ONION
Whole fried onion served with chipotle mayonnaise
HOT WINGS
Crispy crumbed chicken wings
NACHOS
Nacho chips, bean mix, cheese, sour cream, guacamole, cucumber & bell pepper salsa
BUCKET OF PRAWNS
poached prawns on ice with cocktails sauce & lemon
HEREFORD RUMP STEAK:
served medium rare with mushroom sauce, Pub slaw & potato mash
CHICKEN PARMIGIANA:
Served with ham, cheese, Napoli sauce, Pub slaw & fries
SALMON FILLET:
Seaweed wrapped salmon, green beans & wasabi mash with a chilli & coriander glaze
FUSH 'N' CHIPS:
tempura battered fish served with buttered white bread, Pub slaw & fries
BEEF WELLINGTON:
served with potato mash, green beans & mushroom sauce
PORK BELLY:
Stuffed with apricot, sage onion. Served with mash & green beans with apple sauce
BBQ RIBS:
Pork ribs coated in a stick BBQ sauce served with Pub slaw
LASAGNE
layered beef, pasta & bechamel, topped with parmesan cheese and served with Pub slaw
CHILLI BOWL
Kidney beans, black turtle beans, cannellini beans, lentils, onion & celery with a roti bread
CHEESE BURGER
double beef pattie, pickles, melty cheese, coleslaw, brioche bun & fries
CHICKEN BURGER
crispy coated chicken, streaky bacon, melty cheese, 'slaw & chipotle mayonnaise, brioche bun & fries
PUB CAESAR SALAD
Anchovies, bacon, parmesan, garlic croutons, poached egg, cos lettuce & caesar dressing
BEETROOT & BLUE CHEESE SALAD
beetroot, onion, walnuts, blue cheese,watercress & balsamic dressing
SMOKED FISH PIE
Smoked fish, prawns, asparagus, egg topped with parsley & parmesan crumb
OPEN STEAK SANDWICH
roasted rump, grilled bread, watercress, pickles, horseradish mayo & parmesan
PUB CRUNCHY SLAW:
crunchy version of the classic
CREAMED SPINACH:
secret recipe
BURNT CORN:
smothered in hot butter
COLD POTATO SALAD:
with lots of scrumptious stuff
SUMMER ROAST VEGES:
with honey & thyme
BATTERED JALAPENOS:
with chipotle mayonnaise
CHICKEN NUGGETS:
with BBQ sauce
TIRAMISU:
with vanilla ice cream & caramel sauce
BROWNIE:
with vanilla ice cream & chocolate sauce
PANNA COTTA:
with vanilla ice cream & caramel sauce
Drinks Menu

Mac's Three Wolves Pale Ale
Speights Summit Big Bottle
Mac's Ultra Violet low carb
Devils Staircase Pinot Gris
Valli Gibbston Vineyard Pinot Gris
Mt Difficulty Roaring Meg Rose
Kids Menu

Kids Chicken Nuggets & Chips
Kids Waffle, maple syrup & fried banana
Kids Chicken Burger & chips
Kids avocado & pea smash on toast
Ice Cream - FREE with any main meal